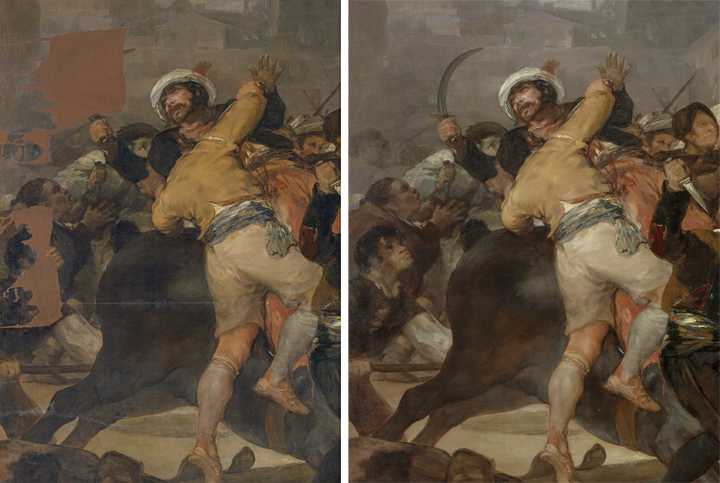 Perhaps the most important point for clarifying the issue of the restoration and re-integration of the lost zones has been the fact that the Museum has sufficient visual documentation on the works dating from prior to the damage.
The existence of black and white photographs taken before the Civil War (Moreno, Alinari and Ruiz Vernacci archives) and the modifications to the colour and composition undertaken in 1938 were determining factors when the decision was made to carefully reconstruct the paintwork of the lost areas using a computer-manipulated stencil based on the old photographs. This allowed for a type of restoration not possible in 1941.
The technique of reconstruction has involved the application of small stripes of colour which allow the viewer to appreciate the restored zones from close up but which blend into the overall vision of the work when seen from a distance, camouflaging the losses and thus allowing for a better visual understanding of the whole.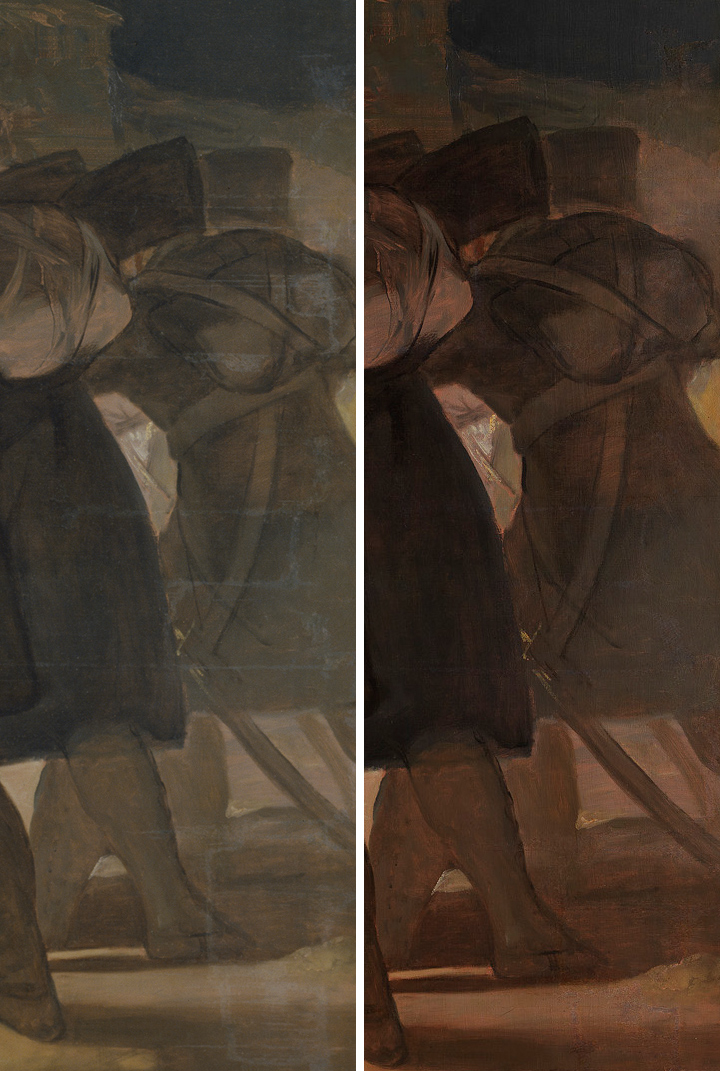 The two paintings have been re-varnished using a natural damar resin that has given the canvasses a texture similar to the one they would originally have possessed.
The restoration of the two canvases took different amounts of time. With regard to The 2nd of May, Elisa Mora started work on preliminary tests and studies approximately a year ago as the characteristics and specific problems of this work meant that the restoration process would be a lengthy one. The restoration of The 3rd of May by Clara Quintanilla and Enrique Quintana involved cleaning the oxidised varnishes in a way similar to that undertaken on The 2nd of May but less time was required overall as the retouching of paint losses was less complex.
Finally, we should bear in mind the excellent state of conservation of the two works, due not only to the exceptionally high quality of Goya's technique but also to the correct nature of the restorations that were undertaken in the past and which have undoubtedly contributed to the fact that these paintings seem so accessible and full of life.
Enrique Quintana, Head of the Area of Painting Restoration, Museo del Prado