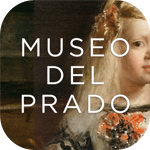 The Prado Guide in digital format is a practical, flexible and educational publication that allows you to enjoy the permanent collection of the Museo del Prado from anywhere in the world. You can choose to take a tour by collection or by author (Velázquez, Los animales del Prado, etc.). You can enjoy the top quality of the images in high definition – four hundred works that accurately portray the essence of this emblematic museum – accompanied by specialised texts. With The Prado Guide app on your tablet, you'll be able to view fifty masterpieces of the museum up close in detail and wander through the history of the art gallery and its leading figures.
The Prado Guide has been developed using publishing system DPS from Adobe. The first download of this software is provided free from the shop, and you can use it to see the options available for the editions in the various languages. Once you've selected your language, the guide costs you €5.99.
This guide has been optimised for tablets larger than 7 inches.
Available in: Spanish, German, Chinese, French, English, Italian, Japanese, Portuguese, Russian.